THE ULTIMATE VEHICLE PROTECTION SYSTEM FROM CHRISTCHURCH MITSUBISHI

In today's harsh environment the paintwork on the modern car has to put up with a bombardment of external forces such as acid rain, road salt, detergent, tree sap, industrial fallout and the dreaded bird droppings!  Add to this the effect of the suns powerful UV rays and all of this can play havoc with your car's paintwork.
Due to environmental demands manufacturers now have to use water based paints, which whilst being environmentally safe and friendly are far more prone to fading and oxidisation. A weekly wash or run through the car wash cannot hope to keep your car in showroom condition.
And the problem with modern wax polishes is they simply do not last, every time you wash your car with detergent you wash away a layer of protection.
However with the GardX Vehicle Protection system with Nano technology you can benefit from a 'Lifetime Guarantee' protecting your car inside and out against almost any harmful  element that it's likely to come up against and help retain that sparkling, just like new look.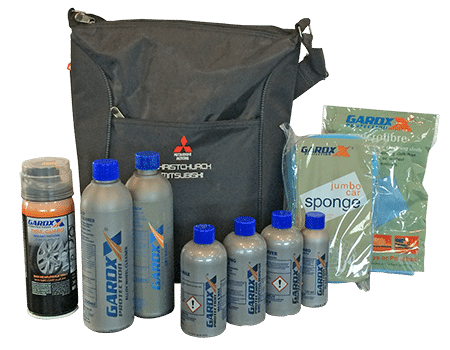 PAINT PROTECTION
The GardX paint protection system with Nano technology permanently etches a layer of protective sealant into the core of your car's paintwork. It has been tested in some of the world's harshest environments. It shields against the effects of the suns UV rays, acid rain, sea salt and provides a high gloss finish which retains it's appearance wash after wash
Stage 1
A pre-seal formulation which penetrates into the molecules of the paintwork preparing it for final sealant with Stage 2
Stage 2
Permanently bonds to the Stage 1 pre-seal formulation, creating a protective coating over the paintwork like a second skin which resists attack and contamination from pollutants and road grime.
Conserver*
Formulated from Stage 1 and 2, Conserver assists in maintaining the GardX protection. It should be applied monthly as a wash additive.
* With regular conserver maintenance you may never need to polish your car again.
HOW THE PAINTWORK PROTECTOR WORKS
Left unprotected, your car's paintwork deteriorates through constant attacks by rain, ultra-violet light and other harmful  elements. The GardX two stage system firstly cleans and  removes harmful elements rebuilding the original look of the paint. It then seals the paintwork by creating four layers of  protective coating that leaves a super-smooth high-gloss finish..Wash after wash!
The GardX Vehicle Protection System implies Nano technology with 4 layers of protection.

HOW THE STAINGUARD PROTECTOR WORKS
A 'state of the art' formulation which coats each individual fibre with an invisible barrier that protects against liquid spills, dirt, grease and oil.  Liquids simply 'bead up' and can be removed by wiping off with a clean cloth or by vacuuming away.  After application your car's interior should retain its original "like new" appearance.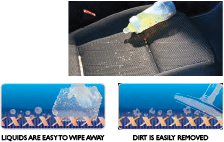 GLASS GUARD
Creates a far safer driving environment by coating the windscreen with a formulation which repels rain and causes it to bead and aerodynamically run off.  Your area of vision dramatically improves by keeping glass free of rain, snow, frost, dirt, bugs and grit. Suitable for all glass surfaces.
LEATHER GUARD
An exclusive leather treatment which seals the hide, protecting it against stains, dirt and liquid spills.  At the same time moisturising the leather to retain that supple natural look and feel.
TYRE GUARD
If one of your car tyres puncture, GardX has the solution. Just  connect the Tyre Guard to the tyre's valve, depress the actuator and Tyre Guard will reinflate the tyre and repair the puncture.  A quick, safe and simple temporary repair.
BIRD DROPPING REMOVER
GardX Bird Dropping remover will soften and neutralise droppings, allowing them to be removed quickly and easily.  It will also restore protection to the affected area and it is recommended that the Bird Dropping Remover is kept in your car ready for use.
The GardX Vehicle Protection System protects against: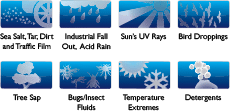 Manufactured under a quality management system accredited to ISO9001.
Terms and Conditions apply.