The new face of the future
Our team is very knowledgeable on all the Mitsubishi models available and can provide you with a personally tailored service to suit your fleet requirements. We offer competitive pricing, great aftersales care and a wide range of quality Mitsubishi models.Outlander Plug-in Hybrid brings you incredible technology, almost unbelievable efficiency and stunning new styling. Plug-in hybrid technology and a full electric vehicle come together and the result is a very stylish and eminently practical SUV. Many luxury features are also included, as is a real feeling of performance. Whichever way you look at it, it's just better.
Advanced safety across the range
Whichever model Outlander PHEV you choose, you and your family will be very well protected. Both the XLS and VRX now feature Adaptive Cruise Control, which matches your speed to the vehicle you're following, as well as Forward Collision Mitigation. This system uses radar to identify and warn of potential obstacles and applies the brakes if necessary to mitigate a collision.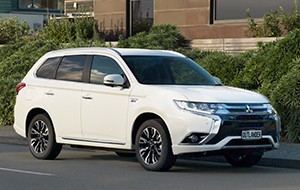 You've never seen economy like this
Outlander Plug-in Hybrid uses 2 electric motors and a high-efficiency petrol engine to enable fuel efficiency of 1.7L/ 100km and emissions of only 39g/km of exhaust emissions (ADR81/02 test procedure).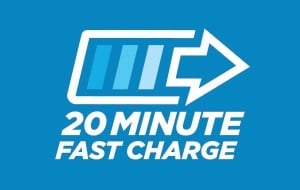 When you're out and about, you can fast-charge Outlander PHEV to 80% capacity in just 20 minutes. Fast charge stations are popping up around the country, with a new site added nearly every two weeks. Just plug in and the high current DC charge system will get you charged up faster than ever before. Find a station near you.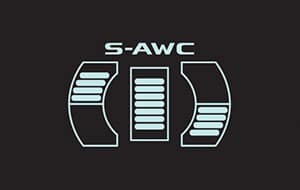 Easy to live with
Unlike other hybrids, Outlander Plug-in Hybrid is a very practical vehicle for families. It'll take everyone and their luggage. It'll also take all kinds of terrain in its stride, thanks to advanced traction systems.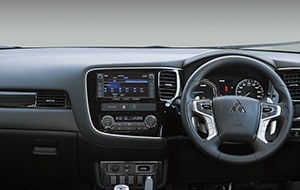 Great features, good looks
Outlander Plug-In Hybrid is loaded with features catering to luxury and the vehicle's operation. There's smart styling throughout, including the newly modeled front and elegant accents throughout. It's a very refined place to be, for all occupants.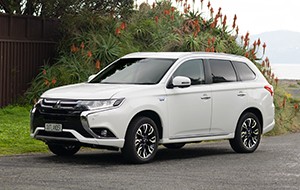 A safe place to be
New Outlander Plug-in Hybrid has a 5-Star ANCAP Safety rating, like every other Outlander. Its breakthrough technology also incorporates many new safety features to keep you, your passengers and other road users safe.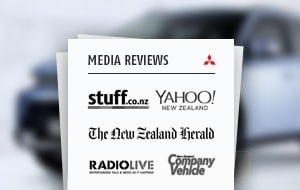 Want to know what the media are saying about this revolutionary new car? Open up the tab below and have a read
Despite the many advanced systems on board, Outlander PHEV is very easy to live with. To charge, just plug it in at home with an ordinary power point. It'll charge in around 6 1/2 hours – do it overnight for convenience and off-peak rates. When you're out and about, you can get an 80% charge in just 20 minutes at the ever-growing number of fast-charge stations. You can find your nearest fast-charge station here. You fill up the petrol tank like a regular vehicle, but a lot less often.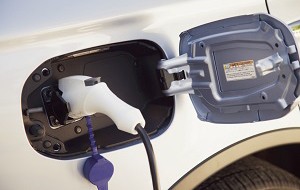 Household Plug
Charging your Outlander Plug-In Hybrid could not be easier. Simply take out your on-board charging cable and plug into a standard household outlet.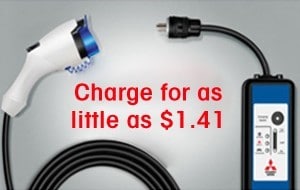 Take advantage of varying electricity rates and charge your Outlander Plug-In during off-peak. A full charge takes about 6.5 hours and will cost you on average $1.41 according to Energy Efficiency and Conservation Authority: EECA advised electricity rate of 15c/kWh.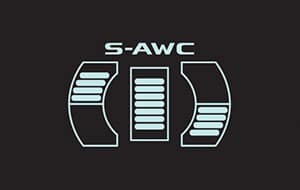 Regenerative braking charges the drive battery when the driver releases the accelerator and while the brake pedal is being pressed. The driver can control the degree of regenerative braking via selector lever and paddle selector.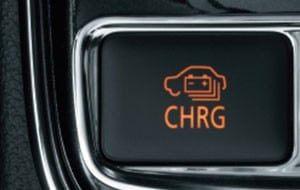 Battery Charge Mode
In Battery Charge Mode, the engine is charging the battery, even when the vehicle is stopped. In this mode, it takes about 40 minutes to reach 80% capacity.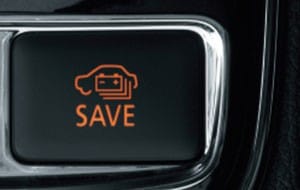 Battery Save Mode
You can conserve energy in the battery simply by pressing the Battery Save Mode switch and the petrol engine will be used more often.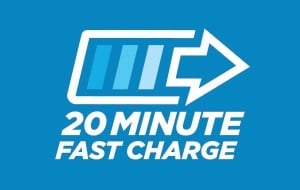 When you're out and about, you can fast-charge Outlander PHEV to 80% capacity in just 20 minutes. Fast charge stations are popping up around the country, with a new site added nearly every two weeks. Just plug in and the high current DC charge system will get you charged up faster than ever before. Find a station near you.
Outlander Plug-in Hybrid Electric Vehicle is powered by two 60kW electric motors, one at each end. There's also a 2.0L petrol engine that charges the 12kWh Lithium-ion battery and supplies torque when necessary. Put it all together and you're never limited by range, because you can charge the battery while driving. Economy is an eye-popping 1.7L/100km. Emissions are only 39g/km of exhaust emissions (ADR81/02 test procedure).Economy is an eye-popping 1.8L/100km. Emissions are only 42g/km of exhaust emissions (ADR81/02 test procedure).
Three driving modes
Depending on driving conditions and battery level, the Outlander's Plug-in Hybrid EV powertrain automatically selects the optimum drive mode so you can enjoy worry free, fuel-efficient motoring.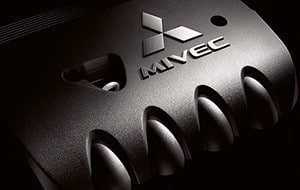 2.0L Engine
A small yet powerful 2.0L MiVEC petrol engine has been selected for its quiet Electric Vehicle cruising potential and its ability to supply the two the electric motors with electricity.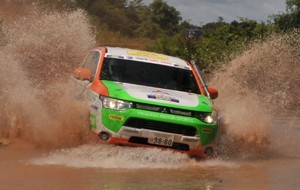 The high-capacity battery provides a range of up to 54km* in Electric Vehicle mode. Solid frame-weld construction the battery is watertight and durable so no mater if your on or off the road the Outlander Plug-In Hybrid has been designed to meet the tough conditions of an SUV. *ADR81/02 official test regime.
Electric Vehicle Mode
An all-electric mode where the front and rear motors drive the vehicle using only electricity from the battery. With zero on-road petrol consumption and zero CO2 emissions, you can enjoy quiet and exceptionally eco-friendly performance. *Overseas model shown.
Series Hybrid Mode
The petrol engine operates as a generator supplying electricity to the electric motors. The system switches to this mode when the remaining charge in the battery falls below a predetermined level and when additional power is required, such as accelerating to pass a vehicle or for driving up a steep incline. *Overseas model shown.
The gasoline engine provides most of the motive power, assisted by the electric motors as required. The system switches to this mode for higher-speed driving when the gasoline engine operates at peak efficiency. *Overseas model shown.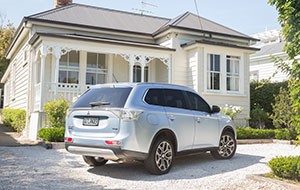 Click here to see the remarkable fuel efficiency and environmental performance of the Plug-In Hybrid Electric Vehicle. Use these driving scenarios to help estimate what level of petrol and electricity use you can expect.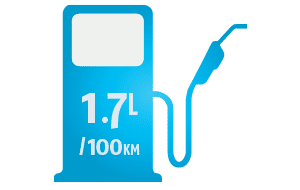 6 Star Economy
With an eye-popping 1.7L/100km, Outlander Plug-in Hybrid achieves a 6 star Energywise rating with an annual fuel cost of $280. (Source: Energywise)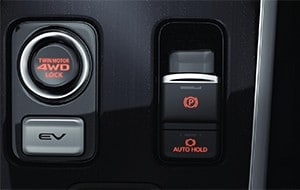 Now you can choose to drive in full EV Mode at the touch of a button. By selecting EV Priority Mode, the vehicle will use electrical energy. For example, if your battery is fully charged and your drive is less than 54km (the full EV range), you can do it all using no fuel and producing no emissions (based off ADR81/02 test results)
It's already fully loaded
New Outlander Plug-in Hybrid Electric Vehicle boasts all the comforts and refinements of the Outlander range and brings a host of new technologies and touches throughout. The energy status of the vehicle is displayed on the two dash-mounted screens. Every other control is also within easy reach, including regenerative braking and other engine and traction functions. It's also very smartly styled inside and out.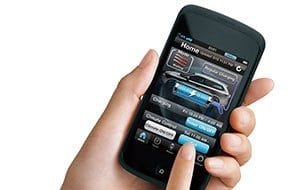 Available on all models, the Plug-In Hybrid comes equipped with a smartphone app that enables the control of various onboard features. For detailed overview, preparation, screens, vehicle operation and settings click here.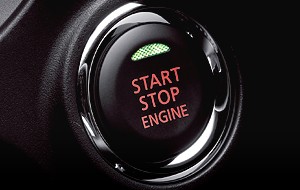 One-touch start
All models make fumbling for keys a thing of the past. Simply push the start button, and go.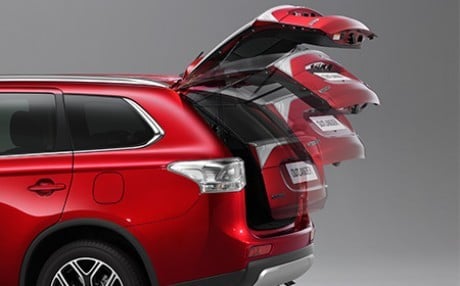 Power Tailgate
If you've got your arms full or any of the other hundred reasons why you might not be able to open the tailgate by hand, just press a button on the key fob and it automatically opens for you (VRX model only).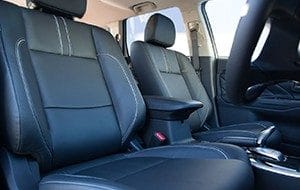 Heated Seats
Outlander PHEV caters to the comfort of all occupants. The driver and front seat passenger will enjoy heated seats – perfect for frosty mornings or a trip to the ski fields. In VRX, the seats are luxurious leather. The whole experience is dyanmic and pleasurable.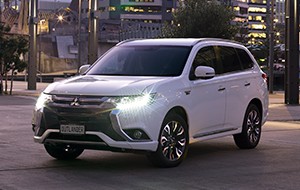 Sharp Look
Your eye will glide as easily over the newly designed body as the oncoming air. From the bold front end, to the sharp new lines along the boot and the many accents in between, Outlander Plug-in Hybrid cuts a fine figure in the town or country.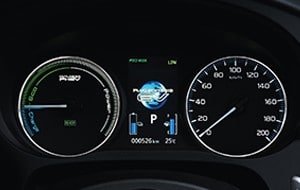 Multi Information Gauges
Essential driver information is displayed on a 4.2″ colour LCD screen positioned between the main dials. The use of high-contrast colour assists the driver in identifying the information being presented.
Outlander PHEV does many things other SUVs can't. But it still does everything you want from a family vehicle. Everyone's kept comfortable, entertained and extremely safe. There's also real 4WD at your command and Super-All Wheel Control for a confident ride on less than ideal surfaces.
Super All Wheel Control
Utilizing 4WD technology forged by the Lancer Evolution, the S-AWC regulates the brakes and distributes power to the front and rear wheels, as well as the left and right wheels, to improve driving stability and handling precision in the most challenging of terrain.
Twin Motor 4WD
The Outlander Plug-In Hybrid uses a Twin Motor 4WD system comprising of two electric motors to drive the front and rear wheels. Delivering better response and finer control than conventional mechanical systems, the front and rear electric motors generate maximum torque providing instant acceleration. The Outlander Plug-In Hybrid delivers superior levels of environmental and driving performance.
Tow
Unlike many hybrid vehicles the Outlander Plug-In Hybrid is tow rated to 750kg braked and unbraked.
Utility
Whatever combination of passengers and luggage you need to carry the Outlander PHEV can accommodate thanks to the 60:40 split rear seats. So if you need more cargo space, simply fold flat the rear seats for an impressive 1845mm of cargo.
Cold Tested in Russia
Mitsubishi Motors' engineers ticked another box after the completion of two months of specific cold weather testing in Russia. Read more
Proven in the Harshest Conditions
The Outlander Plug-in Hybrid competed in the 2015 Asia Cross Country Rally – covering 2,000 kms of Asia's harshest terrain.
Every model in the Outlander PHEV range carries advanced safety features, like Forward Collision Mitigation and Adapative Cruise Control. You're also protected by an array of traction and braking systems, airbags and a stiff body design. A 5-Star safety rating is easily earned.
Adaptive Cruise Control
When the vehicle in front of you alters its speed, so does your cruise control. A radar matches Outlander's cruise control speed to whatever you're following with appropriate adjustments of brake of accelerator.
Forward Collision Mitigation with pedestrian detection
Now standard across the range, radar is used to identify obstructions ahead and warn of a potential collision. If the risk remains, this system applies the brakes to mitigate a collision.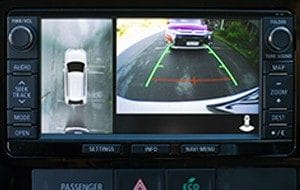 The ultimate parking aid
The Multi Around View Monitor on VRX uses four cameras to give you a complete picture of what's around you. Choose a specific angle or a bird's eye view for the easiest park you've ever experienced.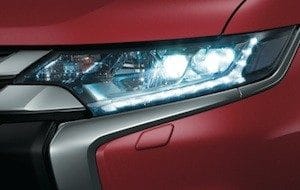 Daytime running lights
For added safety and improved visibility, Outlander features daytime running lights. The headlights are now LED, which use less energy and increase the vehicle's overall efficiency.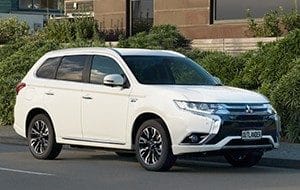 Keeping you out of harm's way
An innovation to help keep you out of harm's way is the mis-acceleration prevention system. While manoeuvring forwards or backwards, should the driver accidentally stamp on the gas pedal instead of the brake a device senses if there's something in the way and instantly disables the throttle. VRX only.
Airbags
Whichever angle an impact is encountered, there's an airbag to counter its effects. Driver and passenger-side SRS airbags, side and curtain SRS airbags, and a driver-side SRS knee airbag all come standard and protect occupants throughout the vehicle.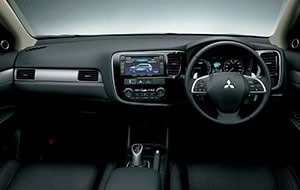 Advanced design and materials
An exceptionally quite cabin thanks to 4mm soundproof glass and damping materials covering more area. Additional sound-absorbing and insulating materials in the engine compartment, wheel housing, and other areas also help cut back on noise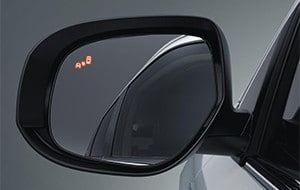 Your blind spot is covered
Blind Spot Warning on VRX detects when a vehicle you might not be able to see is on either side of you. If you're indicating and there's another vehicle in the lane you want to join, a buzzer will sound and you'll see an illuminated symbol in the door mirror.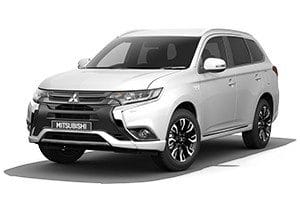 Outlander PHEV XLS 4WD
$60,990 RRP* +ORC
Special promotional price – $59,990 + ORC
2 electric motors and one 2.0L petrol engine, Twin motor 4WD, Super-All Wheel Control system, Regenerative braking, Advanced safety, 7 airbags, 5 star safety, 7″ Touch Screen with Smartphone Link Display Audio System, Roof rails, 18″ alloys, LED headlamps and daytime running lights, Headlamp washers, EV remote system with charging timer, Push button start, Bluetooth handsfree with steering wheel controls, Partial synthetic leather seats, Adaptive Cruise Control, Forward Collision Mitigation with pedestrian detection, Halogen headlights and LED daytime running lights, EV Priority Mode, Auto high beam & lane departure warning.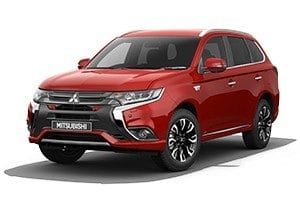 Outlander PHEV VRX 4WD
$66,990 RRP* +ORC
4 camera Multi Around-View Monitor System, Leather appointed seats, Heated and Powered Driver's Seats, LED fog lamps, Power tailgate, Blind Spot warning, Ultrasonic mis-acceleration system, Front parking sensors, LED headlamps, Rear Cross Traffic Alert